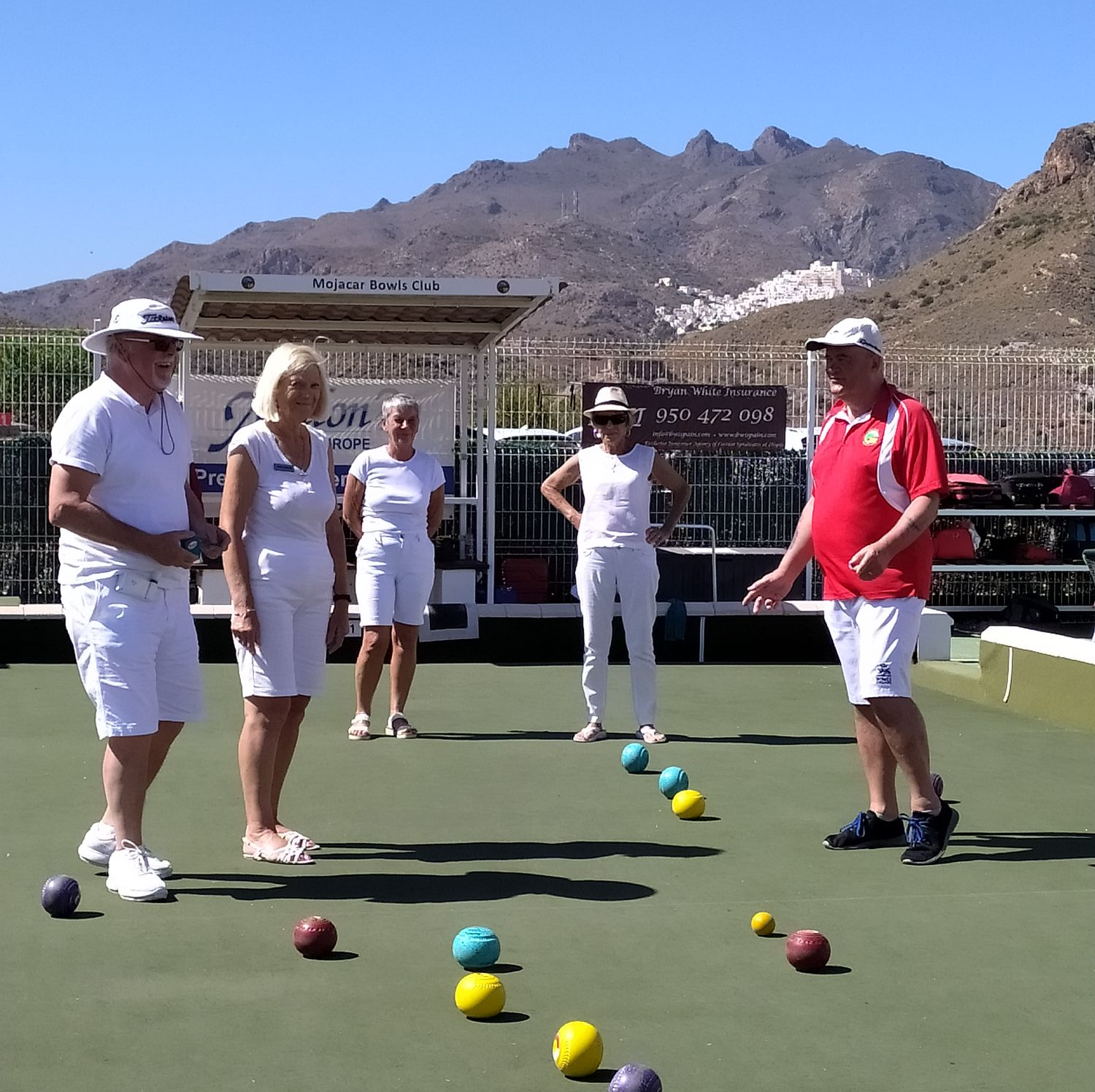 MOJACAR BOWLS CLUB
MOJACAR BOWLS CLUB is the only bowls club based in the resort of Mojacar Playa. Situated behind the ServiGroup Marina Mar Hotel, it offers an outdoor six rink carpet green, with stunning views of the picturesque Mojacar Pueblo, as well as the rolling hills and sea views of Mojacar Playa.
This small club welcomes all levels of bowlers, with training and mentoring provided for beginners. Open all year round, roll-ups take place on Tuesdays, Thursdays and Saturday mornings, from 9:30am, with a 10:00am start.

Known as "The Friendly Club", the members seek to balance the game of bowling with the social side, providing opportunities to meet new people and become part of the Mojacar Bowls Club community. A few hours gentle exercise, followed by a drink and chat with your fellow bowlers in the clubhouse and bar is an idyllic way to spend a morning.
The club was founded in 1996, originally set up as La Mata Garden Bowling club. The club moved to its current location in 2014, following investment in the new bowling green by Mojacar Town Hall Council, supported by the ServiGroup Marina Mar hotel. The club was renamed Mojacar Bowling Club, and has continued to improve and enjoy the current facilities for the last nine years, including a clubhouse, bar and terrace area.
The club has approximately 50 members, some of whom live in Spain, and others who visit the club regularly, usually over the winter months. All members and day visitors are welcome to attend roll-ups as often as they choose. The club also attracts visitors from other bowling clubs, whether on an ad-hoc basis or as part of an organised trip.
The club prides itself on developing both new and experienced bowlers, providing the opportunity to enter in-house competitions and league matches, for the more competitive bowler. However, the emphasis is on having fun in the sunshine and enjoying the bowling and the friendly company.
As well as the bowling, the club arranges regular social and charity events, lunches, quizzes and occasional days out to visit and play other clubs within the region. In turn, other clubs regularly visit Mojacar Bowls Club from the U.K. and Europe, often staying at the ServiGroup Hotels Marina Mar or Marina Playa, both offering attractive accommodation rates for visiting bowlers.
The club has a committee of volunteer members, working together to ensure the clubhouse, grounds and equipment are all well maintained, offering a high standard of facilities for bowlers, within a safe environment. The Committee is always open to new ideas to improve the club and the facilities and events available.
The club is located at Avenida del Mar ,7 Urb Marina de la Torre, Mojacar, 04638 (behind Hotel Servigroup Marina Mar). Any interested bowlers are always welcome to visit the club during a roll up to meet the members and get a flavour of the bowling.
For more information about Mojacar Bowls Club, contact Janet Lawrence, (+34) 627 204 422, email: [email protected] or Click here
Updated 21st April 2023