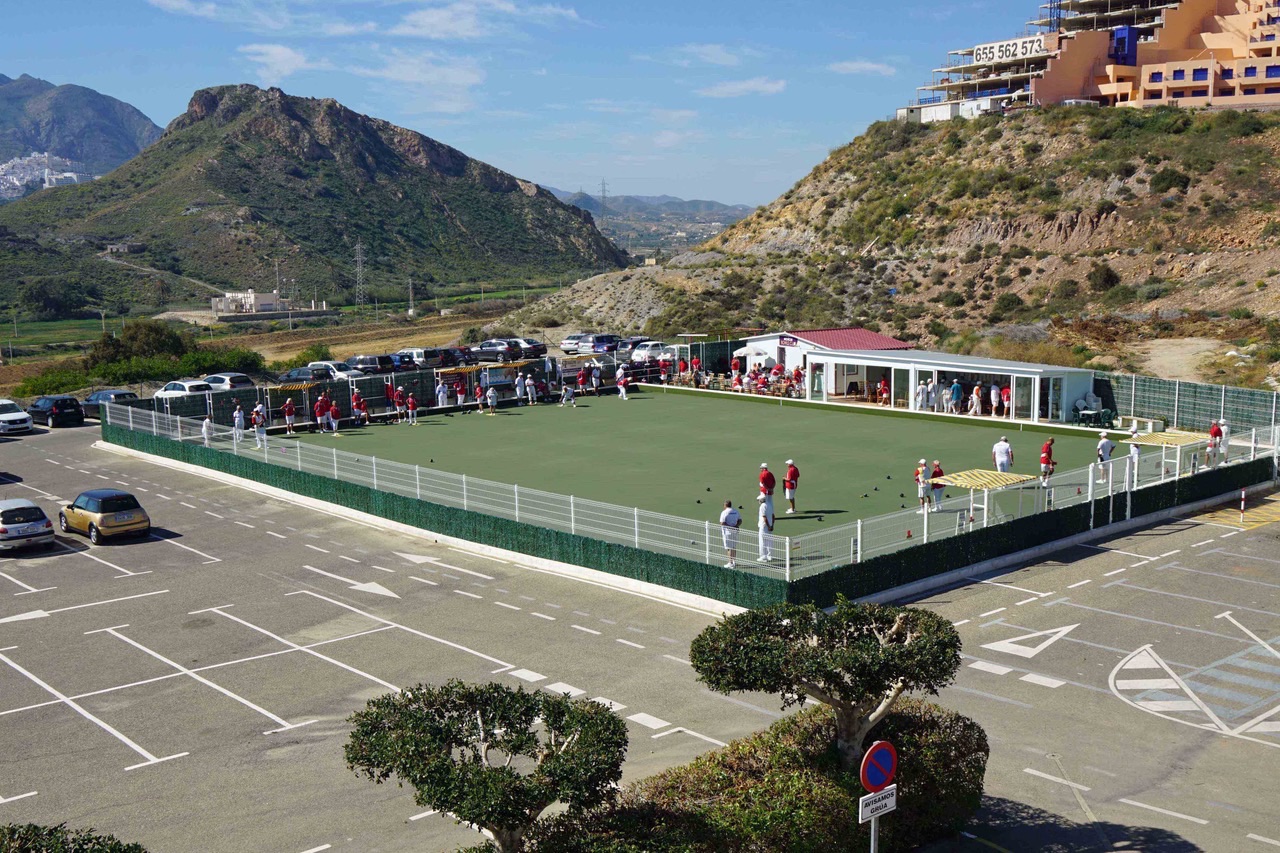 MOJACAR BOWLS CLUB COMMITTEE LATEST UPDATE 10
Subject: Covid 19 IMPORTANT NOTICE to all members
Due to the New restrictions that come into effect from midnight tonight Monday 9th November The planned Committee Meeting and the Club Singles Championship Semifinals and Final, have to be suspended due to the fact that people cannot travel out of their municipality for the next two weeks until 23rd Nov when this will be reviewed again by the Junta.
The date of the next meeting will be advised when we know it is OK to travel again. Also the planned AGM will have to be rescheduled when we know more. Members living outside of Mojacar will not be able to leave their municipality to bowl.
Please note: You guy's coming out from the UK will need to quarantine yourselves from the Bowls Club for 7 days. If by so doing, you would miss the entry closing date of a certain competition AND you are actually in Spain, then let a committee member know, so that your name can be added to the Entry form within the deadline.
Good luck everybody, may the best bowlers win.
** NEW MBC STATEMENT Wednesday 2nd September **
Following a meeting that our President Verna Bimpson and myself had with the management of Hotel Marina Playa this morning, they have confirmed that the hotel will be closed from October 12th 2020, until February 2nd 2021, as will all other hotels in Mojacar.
We discussed MBC's requirements during the closure period, and they have confirmed we can carry on bowling and that the water and electricity connections will be left on for us. Apart from a final clean they will only carry out a clean two times per month, which is insufficient to comply with the Protocol for us operating, therefore the cleaning which needs to be rigorously carried out after each bowling session, will be down to the club, and will be discussed at the next committee meeting
We have agreed with the hotel that no subscriptions will be paid until the hotel opens again in February, meaning that there will be no charge for the period that the hotel is closed, and all subscriptions will commence in February 2021.
For your extra information, talks are ongoing with FAB as to whether it will be possible to play leagues or winter competitions and as soon as we have firm news we will let you all know.
Rest assured that your committee are working in your best interests to keep everything going and to ensure that we all remain safe while bowling.
Chris Nuttall
Vice President
MBC COMMITTEE UPDATE ON FACE MASKS
Dear Bowlers
As of today 18th July 2020 you should be aware of changes regarding the wearing of face masks and we would like to clarify the official position for you. Written confirmation has been received overnight from our Delegado, who has confirmed that the FAB Protocol has changed in respect of Outdoor Bowls and our current regulations To confirm the situation...
FACE MASKS MUST BE WORN AT ALL TIMES...... From entering the club, Whilst Playing, through to exiting the club.
Please be assured that your committee are constantly working in your interests to ensure we play safely and within the official rules during these testing times. All members will be notified of all official rule changes as and when we receive them.
Chris Nuttall
Vice President
Dear Bowlers,
We are now open for members Roll ups, Tuesday, Thursday and Saturdays only.... Hooray!
After the first week of bowling, everyone is observing the new 'Normal'
Rules and the concensus is that it is all working well.
Remember, We must remain vigulant to stay safe.
Apologies If anyone has contacted the club during the lockdown period and have not recieved a reply, could you please resend your enquiry through the contact page section of this website.
Latest rules subject to revision at any time, please revisit regularly.
You now MUST wear a face mask at all times. On entering, you will be asked to sanitise your hands and register with your name and contact details in a book provided outside the office, please bring your own pen to use. We are required to do this to provide Track and Tracing information should it be required. All our furniture and equipment will have been sanitised by the hotel and they will continue to do this on the days that we open. Members will not be allowed extra visits for practice or games outside of these sessions for the foreseeable future.
We are still getting updates to the regulations from FAB/ Junta de Andalucia which will cover the 'New Normal' and we will send these to you as soon as they are received.
On behalf of the Committee, we look forward to bowling together again soon.
Chris Nuttall
Vice President